Deacons are ordained to the ministry of compassion, witness, and service to the congregation and to the poor, the hungry, the sick, the lost, the friendless, the oppressed, those burdened by unjust policies or structures, and anyone in distress.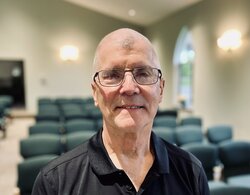 Deacon Leader: Brad Debusk
Brad can speak with you about any concern you or your family is facing. In addition to providing care, he can help you connect with a deacon, a Stephen Minister, the pastor, or another helpful resource.
Based on last name, every member and family in the congregation has an assigned Deacon. Deacons may be contacted using information in our Directory or the hyperlinks below.
A - Kathy Boyce
B - Darla Reese
C - Mitzi Chambers
D-G - Brad DeBusk
H-I - Danielle Humphreys
J-K - Brenda Magill
L - Debbie Humphreys
M-O - Linda Goblesky
P-R - Shelly Anderson
S - Toni Sears
T-V - Bill Wolfe
W-Z - Kara Komula