Summer 2022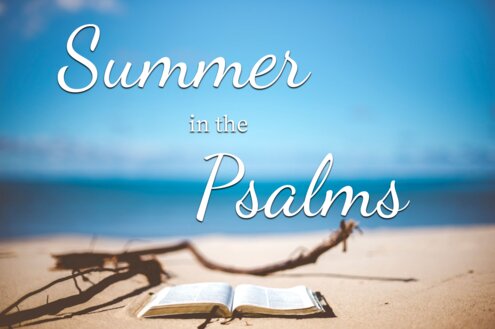 The Psalms are a collection of songs, prayers, and poems that God's people have long treasured for how they help us to express ourselves to God. The psalms help us to praise, to lament, to give thanks, to trust, to self-dedicate, and to repent. Probably, we know many portions of the psalms by heart. At the same time, the psalms can sometimes be mystifying. We struggle to find what we are looking for or we are surprised by what we find.
This summer, we will be focusing on the psalms through a helpful lens: Jesus. After his resurrection, our Lord taught his disciples how the law, the prophets, and the psalms had to be fulfilled by himself. (Luke 24:44) So, as we read and preach the psalms this summer we are going to pair them with Jesus' ministry. The big idea is that the psalms point us to Jesus and Jesus illuminates the psalms. Our goal will be to experience how the psalms deepen our connection with Jesus, thus making them a more familiar and accessible resource for our spiritual life.
June 12th, Trinity Sunday - Psalm 8:1-9; Romans 5:1-5; John 16:12-15
"Summer in the Psalms" Commences
June 19th - Psalm 22:19-28; Luke 8:26-39. Deliverance from Affliction.
June 26th - Psalm 16:1-11; Luke 9:51-62. Trust and Security in God.
July 3rd - Psalm 66:1-9; Luke 10:1-11, 16-20. Affirming God's Goodness.
July 10th - Psalm 25:1-10, Luke 10:25-37. A Prayer for Guidance.
July 17th - Psalm 15:1-5; Luke 10:38-42. Fit for the Sanctuary.
July 24th - Psalm 138:1-8; Luke 11:1-13. Persistence in Prayer.
July 31st - Psalm 49:1-20; Luke 12:13-21. Being rich toward God.
August 7th - Psalm 33:12-22; Luke 12:32-40. Waiting and Watching.
August 14th - Psalm 82:1-8; Luke 12:49-56. A Plea for Justice.
August 21st - Psalm 103:1-8; Luke 13:10-17. The Lord is Merciful.
August 28th - Psalm 112:1-10; Luke 14:1, 7-14. The Blessings of Being Generous.
September 4th - Psalm 1:1-6; Luke 14:25-33. Choosing the Right Way of Life.
September 11th - Psalm 51:1-19; Luke 15:1-10. God Saves the Lost.
September 18th - Psalm 113:1-9; Luke 16:1-13. God, Helper of the Needy.
September 25th - Psalm 146:1-10; Luke 16:19-31. God Vindicates Those Who Trust in Him.
October 2nd - Psalm 37:1-9; Luke 17:5-10. Commit Yourself to the Lord.
October 9th - Psalm 111:1-10; Luke 17:11-19. Study the Deeds of the Lord.
October 16th - Psalm 121:1-8; Luke 18:1-8. Assurance of God's Protection.
October 23rd - Psalm 84:1-7; Luke 18:9-14. The Joy of Worship.
October 30th - Psalm 32:1-7; Luke 19:1-10. The Joy of Forgiveness.
November 6th, All Saints Sunday - Psalm 149:1-9; Luke 6:20-31. The Joy of God's People.
November 13th - Psalm 98:1-9; Luke 21:5-19. Praise the Judge of the World.
Catch up on sermons that you have missed by listening to the recordings below. New sermons are posted each Monday.