EASTER 2022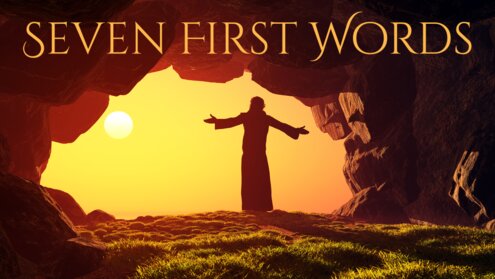 This Easter season our theme is "The Seven First Words" of Christ after his resurrection. Just as Jesus' seven utterances on the cross reveal the redemptive love of God, so Jesus' conversations with his disciples after his resurrection reveal the significance of his new life for us. Drawing from accounts in the four gospels, we can piece together the essential vision Jesus gave to his disciples. As we seek to be disciples today, we stand in continuity with Jesus' original ministry.
April 24th, Easter 2. Word #1: Believe the Scriptures. Luke 24:13.
May 1st, Easter 3. Word #2: I Am Raised in the Body. Luke 24:36.
May 8th, Easter 4. Word #3: You Shall Be Witnesses. Matthew 28:16.
May 15th, Easter 5. Word #4: Feed My Sheep. John 21:15-17.
May 22nd, Easter 6. Word #5: Signs Will Accompany Your Ministry. Mark 16:17.
May 29th, Easter 7. Word #6: Follow Me. John 21:18-19.
June 5th, Pentecost. Word #7: The Holy Spirit Will Come Upon You. Acts 1:1-11.
Catch up on sermons that you have missed by listening to the recordings below. New sermons are posted each Monday.